Lung Cancer Hospitals/Doctors/Treatment/Centres in Pune, PCMC.Lung Cancer Specialist in Pune, PCMC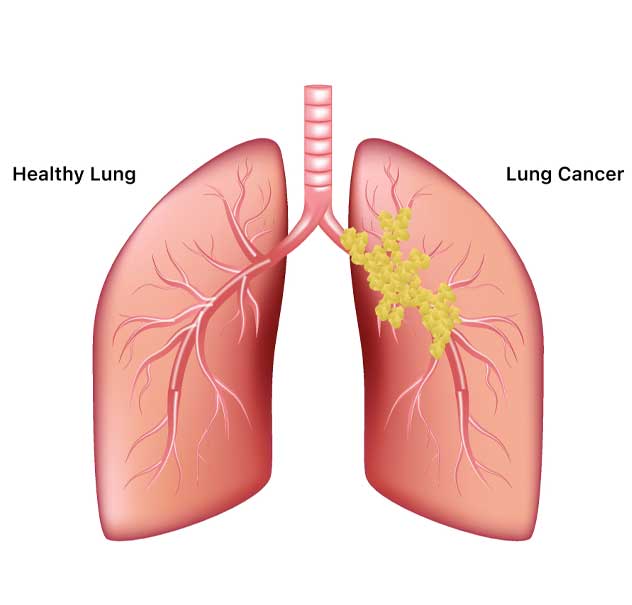 Lung Cancer Hospitals in Pune, Lung Cancer Doctors in Pune, Lung Cancer Treatment in Pune, Lung Cancer Centres in Pune, Lung Cancer Specialist in Pune, Lung Cancer Hospitals in PCMC, Lung Cancer Doctors in PCMC, Lung Cancer Treatment in PCMC, Lung Cancer Centres in PCMC, Lung Cancer Specialist in PCMC
Lakshya Cancer Hospital is one of the best cancer hospitals in Pune PCMC. We Lung Cancer hospitals, Doctors, Treatment, and centres in Pune, PCMC offer excellent treatments and experienced Doctors who are specialized in treating Ovarian Cancer patients.Cancer may be cruel and difficult to cure at any stage. The Lakshya Cancer Hospital doctors and specialists provide a comprehensive variety of full-fledged treatments in the diagnosis and treatment of all types of cancer. The treatment seeks to provide a comprehensive approach to cancer treatment, including active management of all types of cancer through surgeries, chemotherapies, and ongoing monitoring and counselling.
Precision, competence, and dedication are required in today's oncology. Our cancer specialist team combines the best medical, surgical, and radiation oncology capabilities. In addition to keeping up with the newest discoveries in the field of cancer diagnosis and treatment, Lakshya Cancer Hospital Clinical Trial Unit offers patients targeted medicines, gene therapy, and electro-chemotherapy. Lakshya Cancer Hospital seeks to provide easy access to speciality treatment and to achieve competence through technology in order to provide the finest service to mankind.
The Lakshya Cancer Hospital in PCMC, Pune is one of the greatest cancer hospitals in the country. We offer superior therapies and professional Doctors that specialise in treating Ovarian Cancer patients at our Lung Cancer hospital, doctor, therapy, and centre in Pune
Lung cancer treatment at our Cancer Hospital is also quite reasonable, with competitive rates for those who are diagnosed with the disease. Dr. Reshma Puranik, Dr. Sweta Lunkad, Dr. Amit Bhatt, Dr. Anantbhushan Ranade, and Dr. Liza Bulsara are Lung Cancer specialists at our hospital, and they provide superior lung cancer treatments.
The lung cancer centre in PCMC, Pune is a fantastic alternative for ladies suffering from this condition because it provides cost-effective care with high-quality service. For more than a decade, we at Lung Cancer Hospital, Doctor, Treatment, Specialist, and Center in Pune have been offering outstanding treatments. We also provide therapy for lung cancer at an affordable cost.
The lung cancer centre in Pune, PCMC offers cost-effective care with high-quality service and is a good option for women suffering from this disease. We at Lung Cancer hospital, Doctor, Treatment, Specialist, and centre in Pune PCMC have been providing excellent treatments for more than a decade now. We lung cancer doctor also provide treatment at reasonable prices.
What does Lung Cancer mean?
Lung cancer is a type of cancer that affects the lungs. It can affect both smokers and non-smokers. It starts when cells in your lungs start to grow out of control, forming tumors. It is caused by abnormal cells called carcinoma cells. These cells are able to grow and spread quickly to other areas of the body and can cause serious problems for people with lung cancer.
It is an aggressive tumor that starts in the lungs and spreads to other parts of the body, including lymph nodes, bones, brain, and liver. It can be difficult to diagnose at first because many symptoms are similar to other illnesses or conditions.
There are two types of lung cancers: small cell lung cancer and non-small cell lung cancer. Non-small cell lung cancers can be divided into squamous cell carcinomas and adenocarcinomas.
Causes and Symptoms
Lung cancer can be caused by smoking or exposure to asbestos, radon, or coal dust. It can also be caused by infections with human papillomavirus (HPV).
The symptoms associated with lung cancer include a cough that does not go away, wheezing, difficulty breathing, chest pain, and unexplained weight loss.
The causing factors may also include exposure to asbestos, radon gas, and air pollution. Symptoms may include persistent cough with blood coming from your mouth or nose.
Treatment
There are many different treatment options for Lung Cancer, but most patients must choose the best treatment option for them based on their age and health.
Lung Cancer is a deadly disease, but there are many treatment options available to help you fight this disease. Treatment for Lung Cancer includes chemotherapy, radiation therapy, surgery, or a combination of treatments.